Our intervention process promotes human * and community development by enhancing existing resources among families and groups that make up the local community.
In this way, we offer families living in inadequate conditions the opportunity to manage a solution to their housing problem in a comprehensive manner.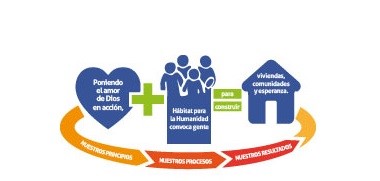 For Habitat for Humanity Argentina, families are the ones who lead the process of self-construction of their homes and the management of solutions. Taking that leadership as a starting point, we seek to establish a link between various actors: families, volunteers, professionals and the community in general. All, in one way or another, support to repair, maintain, restore, rethink and improve what the family has agreed to as a goal.
Our work is based on articulation with all actors in society who are committed to the cause of adequate housing: families, communities, civil society organizations, governments, companies and individuals.
The involvement of volunteering in all areas is vital for our organization: legal and technical advice, construction brigades and the social work with which we promote the empowerment of skills involves volunteers who share our mission.

Starting from a diagnosis of the housing situation and characteristics of the population of the points where we are working, we propose solutions that may include technical advice, loans and fair rents. Training and social support are key in all methodologies.
* Human Development for the United Nations Development Program (UNDP), is one that places people at the center of development. It is about promoting people's potential development, increasing their possibilities, and enjoying the freedom to live the life they value.