Our organization is committed to the cause of adequate housing in Argentina. We seek to reverse the cycle of poverty by providing opportunities and putting faith in action to build strength, stability and self-sufficiency. Following the teachings of Jesus Christ, we want to be part of building a better society by mobilizing resources to improve access to safe and affordable housing here in Argentina.
Those who turn to Habitat para la Humanidad Argentina (HPHA) to address their housing problems firmly believe they can overcome their current circumstances and are committed to finding and working on solutions.  They seek to improve their housing situation based on their own strength, and motivated by those moved to support their cause.
Since 2002, HPHA has worked in different regions of Argentina adapting housing solutions to the different contexts and challenges presented in the country.  We design and implement innovative housing projects for low-income families.  These include our Neighborhood Development Program; which involves Seed Houses as well as individual home improvement and repairs; and our Urban Strategy Program, which focuses on empowering families to acces fair rents in adequate conditions.
Our programmes also include workshops to help families manage their budgets and housing projects, particularly in the country's political and economic conditions.  These include technical, financial and social support.
We are convinced that sustainable change is only possible with strong partnerships. Thus we emphasize the importance of our donors, volunteers, staff, local organizations and institutions, as well as the families themselves joining together to build hope and secure safe, secure, and affordable housing.
Our experience shows real improvements in the lives of the families we have worked with and, in turn, the positive impact those improvements have on the neighborhoods and larger community.  We believe that the housing problem in Argentina must be approached through the community and habitat as a whole, not only on an individual basis.
Once a year we sign a Memorandum of Understanding with Habitat for Humanity International, in order to implement our programs under the registered trademark of the international organization. These agreements include standards of excellence and the possibility of sharing experiences between countries.
Our vision 
A world where each person has a decent place to live.
Our mission
At Habitat para la Humanidad Argentina, we summon people to help build homes, communities and hope.
Our principles 
Demonstrate the love of Jesus Christ.
Focus on housing.
Advocate for adequate housing.
Promote dignity and hope.
Support community development, that is both transformative and sustainable.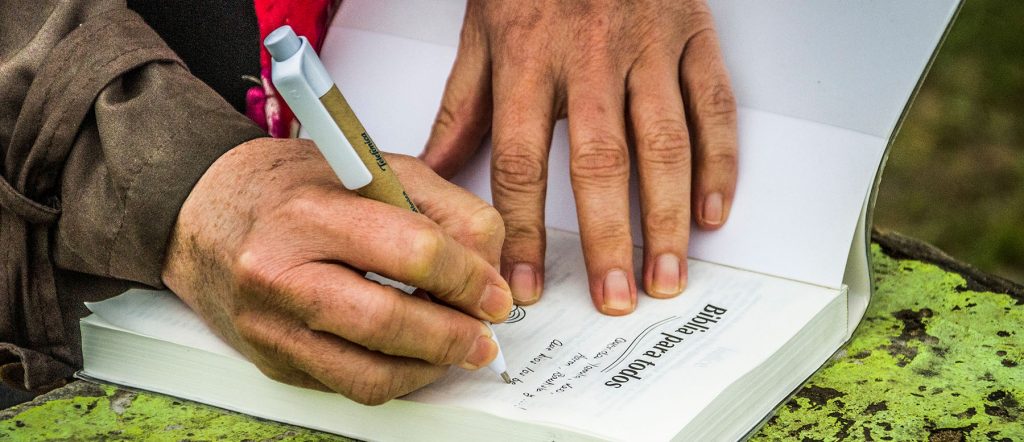 Our history
At the end of the 1990s, two groups of people, moved by those who suffered housing problems, invited Habitat for Humanity to our country. One of these groups included key members of the Luján Baptist Church, 70km from the City of Buenos Aires, while the other was led by a group of teachers from the Asociación de Escuelas Lincoln of Buenos Aires.
After several years of working together guided by Habitat for Humanity's International Partner Edward Dunsworth, a local organization was set up and approved as a Civil Association in 2002. At that time, the first employees of the HPHA organization were hired and the National Office for Argentina opened.
In the first years, the national team worked on raising the funds for the first houses and, in 2003, they began the construction of two homes in Luján thanks to donations from the students of Lincoln School, fundraising events of local volunteers in Luján and the first corporate sponsorship from Maersk Argentina.  Simultaneously, in response to the flood in the City of Santa Fe that same year, an international financing proposal was approved to establish a HPHA office and build 6 homes there.
After several projects in different locations in Luján, Santa Fe, Recreo and Cañada de Gómez, Habitat para la Humanidad Argentina made the strategic decision in 2008 to develop activities in the area with the greatest number of inadequate housing issues: AMBA (Metropolitan Area of Buenos Aires). This strategic decision led to a survey and feasibility study that determined 3 initiatives:
Development of neighborhoods in the suburbs of Buenos Aires.
Assisted rentals for "paying squatters" families living in conventillos (single room rentals and/or boarding houses in the southern part of the City of Buenos Aires).
Recycling Urban Homes (turning vacant urban spaces into rentals in the southern part of the City of Buenos Aires).
Besides these ongoing projects, Habitat para la Humanidad Argentina has always been aware of the effect of climatic events (such as floods, tornadoes, volcano ashes, avalanches) on precarious housing.  This is why we have developed several Risk Management and Disaster Response initiatives around the country as well as in the neighbourhoods where we are working.