Carina and Diego's story
Peace in a safe home
Carina, Diego and their two children are Estelas de Esperanzas newtenants. On May 1st, the family moved to the building where Habitat para la Humanidad Argentina carries out the program Assisted Rentals. The family went through different workshops to be part of this program and is happy to experience this new stage in their lives. Carina and Diego have been dating for 10 years and met at San Juan Evangelista Church in La Boca, where they were both in charge of different church groups. Diego is a security guard and every year he takes part in the pilgrimage to Luján, he is always one of the first to arrive. His wife, Carina, is extremely involved in church activities.
Their families and friends have always supported them, yet they could never improve their housing situation. After they had their kids, they moved to La Boca where they informally leased a room in a tenement house. IT was infested by rats and had severe infrastructure issues. They did everything they could to make this place their home; they painted and cover the walls with decorative and colorful panels and tried to ignore what they heard and saw. But living there started to be unbearable, the rats started to be a threat, especially for their children.
After they received no response to their complaints from the owner, they started to look for an alternative. They contacted Habitat para la Humanidad Argentina through the workshop: Economy to Rent and Care of the Household and they started the application process.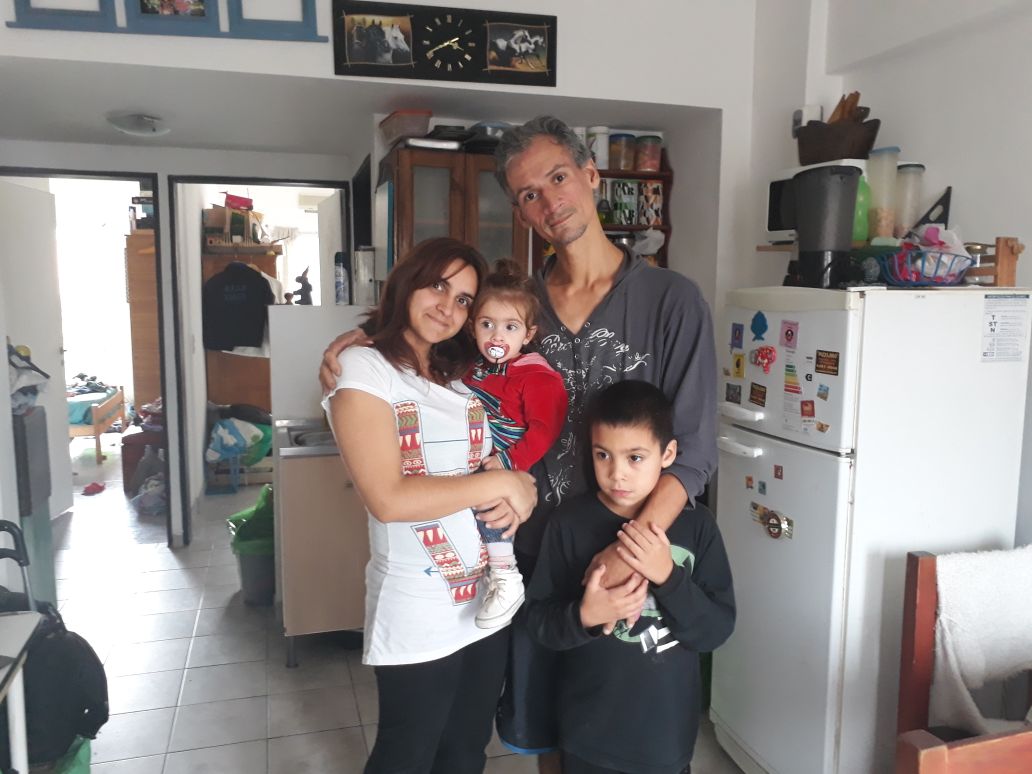 Everybody is moved by their story. However, there are still thousands of families living in poor and unhealthy housing at an elevated price, because they don't meet the requirements necessary for formal rentals.  In Habitat para la Humanidad Argentina, we take on the task to keep on working to offer solutions that break down barriers and give access to adequate housing through formal rentals for people who are enduring these conditions.
Our first house built in Bahía Blanca


"It's a dream come true" said Silvana

Saturday March 10th was a rainy day in Ingeniero White, Bahía Blanca, however, Silvana and Nicolas' family welcomed us with open arms and excited to celebrate that they have been living in their new home for a few weeks now. Together with the company Dow, we started a project that provided financing and volunteer hours  to support actions taken in the neighborhood El Saladero in Ingeniero White, which is an area in need.

After a community approach that involved technical information and training on Adequate housing and Home Economy , the family was able to self-build with social and technical assistance. A second house is now underway in the neighborhood thanks to this partnership.

Silvana and Nicolás lived with her daughter Mía in a small room they had built themselves in the same land they built their new home, and it was finished just as the family got bigger: Silvana said that they didn't have room for the cradle in their original house.
For almost a year they happily built their new home with the help of their family during Silvana's pregnancy.  Today they are living in what they call their dream.
The family fondly remembers the help they received from Dow and Global Village* and they will forever be grateful.
Silvana and Nicolás can now live in peace in their new home, yet we know that there are many families that are still waiting for a chance.
*Global Village is one of Habitat International Programs that allows people from different countries to build homes around the world.
Faith in Action Brigade
Working together despite our differences, to help others, is the foundation of this interfaith brigade that is organized every year.
On Saturday May 10th we participated in a new Faith in Action brigade organized by Habitat para la Humanidad Argentina every year. Representatives of the Movement of God's Word, the San Andrés Presbyterian Church, the Santa María de Betiana Church, atheist brigade members, Muslims, Mormons, members of mixed families and everyone who wanted to help, came together to build.
We met Norma and Jorge's family, who a month ago left the trailer they had lived in for 26 years in order to move to their Seed House, which they built with a lot of hard work and effort. Volunteers helped with plaster, dismantled a room of the trailer and organized the land to prevent the family's grandchildren from getting hurt with the construction material.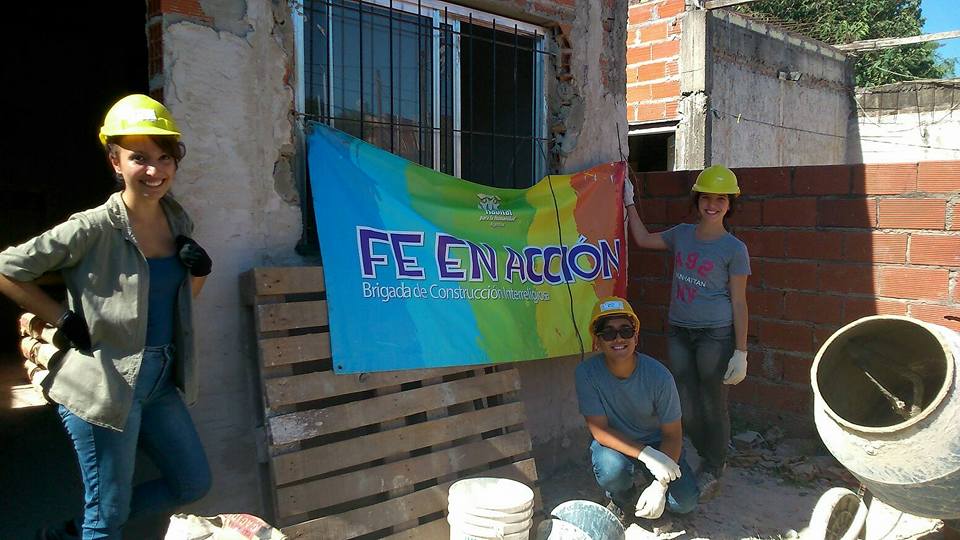 After lunch, we shared an emotional moment when volunteers wrote their wishes for the family and placed them in between bricks so that they would remain forever in the walls of their new home. Norma and Jorge's new home is overflowing with love and is the start of a new stage in their lives.
If you want to be part of a brigade or donate to this project, email us at fondohogares@npha.org.ar. We need to build a world in which everyone has an adequate home to live in.
Take a look at the photos in Facebook:
Let's analyze the paradox: lack of housing and empty land in the city
As a part of the Solid Ground Global Campaign we organized the first virtual Lab: The paradox between the lack of housing and unused property in Buenos Aires, Latin America and the Caribbean.  During the Lab, participants reflected on the complex subject of empty urban land, inaccuracies and disagreements about the land and the potential opportunity it represents. Participants presented a variety of definitions and sample answers in different cities, and analyzed the land's possible purpose such as fulfilling the demand for formal lease.
Ana Cutts (Director of Habitat para la Humanidad Argentina), Eduardo Reese (Director of Economic Rights at the Center of Legal and Social Studies CELS), Lorena Zárate (President of Habitat International Coalition HIC-LAC and member of the Global Platform for the Right to the City), Rodolfo Carretero: Director of Housing Entrepreneurs Association AEV and Socorro Leite: Director of Habitat for Humanity Brazil participated in this event.
Take a look at the webinar and leave your opinion or comments on the Solid Ground Community.
Register to the Solid Ground Community
Solid Ground Campaign
Increasing access to land results in adequate housing for more people.
Solid Ground is a global campaign with the purpose of increasing access to land to develop households for thousands of people in need; the campaign also promotes responsible ground governance and policies, systems and inclusive and sustainable practices. This movement has reached 1.6 million people and 37 countries.
Solid Ground's foundations are to have an impact on public policies, to create multilateral dialogue, to strengthen skills to obtain the right to land, to provide shelter and to involve religious communities.
Solid Ground's most important tools are:
Solid Ground Platform: enables users to connect, to learn and to get involved in the campaign. To participate on this platform you can create a username and password that enables access to databases, relevant posts and the latest news and activities.
Virtual or On-site Labs: carried out according to the demand of Habitat's organizations, local organizations, governments and others. They are focused on strategic fields regarding housing and habitat.
Solid Ground Campaign in Argentina
At the end of 2017, Habitat para la Humanidad Argentina was selected to be part of this campaign. The goal is to focus on access to formal rentals for families in need and to develop the correct utilization of unused urban land.  The campaign also aims to reach public policies that link both of these subjects together.
Through the campaign, Habitat Argentina will be able to approach urban housing in addition to their work with Assisted Rentals and Estela de Esperanza. The campaign will be focused on public policies and analyzing the nature of the market in order to link actors to policies and to promote approaches and debates that deliver possible solutions.
The campaign has three key components:
-Qualitative investigation that addresses the subject of empty urban land and opens the dialogue with owners of the land to learn their point of view. Results will show the number of closed and unused properties located in the south of the City of Buenos Aires. This investigation will also provide information to come up with a solution for this issue.
-A series of webinars planned for 2018 that will allow discussing opinions and exchange knowledge concerning empty urban spaces and informal leases, in order to reach solutions for this issue.
-A pilot program designed together with the Housing Entrepreneurs Association (AEV) to recycle empty property intended for social leasing.
+Info:

2017 Yearbook
In our 2017 yearbook we published every event occurred in 2017 and it also celebrates the goals we reached. We also show special recognitions to those who have helped us to provide adequate housing to people in need.
Please read it and share it.
Click here to read online
Click here to download it
Alejandra from Recreo, Santa Fe, is on the cover. She and her partner were in the process of adopting a little girl when they moved to their new home. A day after they moved, a social worker visited their new home and approved their application.
Alejandra believes that if the social worker had seen her previous home, they would not have been approved.
Every family deserves to live safe in a house they can call home.